Adding Value to Your Home
When its time to sell your home there are many different opinions on what you should and should not do to get the most value out of your home. Some people argue that you need to do expensive remodeling projects in order to attract top-of-the-line offers. In reality, unless you are dealing with a true fixer-upper in need of a complete renovation, the projects that add the most value to your bottom line sale price are the ones that cost you least. Skip the complete bathroom remodel and focus on the small stuff to spruce up your home and create a clean slate for potential buyers to picture themselves in your home.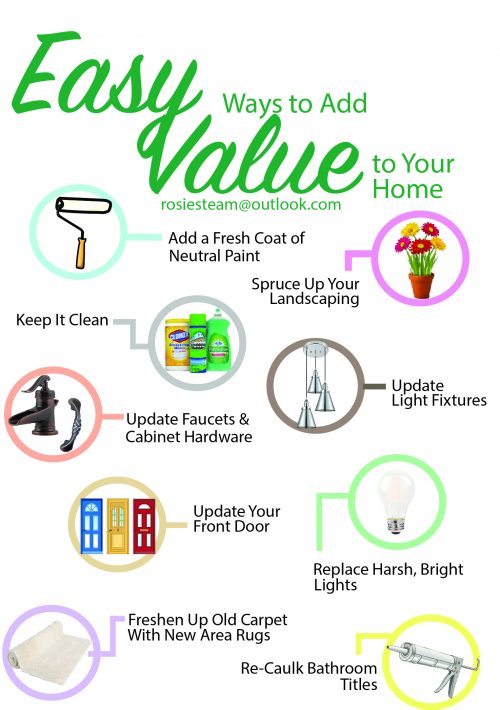 Add a Fresh Coat of Neutral Paint: The best thing you can do to attract potential buyers is to make it easy for them to picture themselves living there. If they walk in and see a bright red wall staring them down, its easy for them to focus on how much they hate the color red and forget that re-painting the home is an easy project. Instead, help them out by starting with a clean slate.
Keep it Clean: Speaking of a clean slate, perhaps the easiest and most cost-effective thing you can do to add value to your home is to simply keep it clean. Potential buyers will be much more inclined to make an offer on a home they feel they can move right into. If the home is dirty from the start, they may not feel a full priced offer is worth it, or even worse they will be turned off from making an offer entirely.
Spruce up Your Landscaping: It is not necessary to spend thousands of dollars on new landscaping, but it can be worth it to spend a bit of time mowing the lawn, pulling weeds and planting some flowers. Remember that curb appeal is the first thing potential buyers will see, and it could be the difference between a quick drive by look and a scheduled showing.
Update Your Front Door: While we're on the topic of curb appeal, consider swapping out or painting your front door to make it pop. While bright colors can be risky, as they may not be everyone's cup of tea, a little something to help your home stand out could be beneficial in the long run.
Update Light Fixtures, Faucets & Cabinet Hardware: If your home is on the older side or considered dated an easy way to give it a fresh update is by replacing things like dated light fixtures for fresh, modern ones or updating faucets or cabinet hardware. It is not necessary to completely re-do a kitchen or a bathroom when a simple change can liven it up.
Replace Harsh, Bright Lights: Florescent bright lights can be a major turn off for potential buyers and can bathe your home in an unflattering light. Proper lights can help potential buyers focus on the positive aspects of your home without getting hung up on the negative.
Freshen up Old Carpet With New Area Rugs: In most cases it is not necessary to completely replace carpet flooring (though you should always take the advice of you agent). It is always recommended to first get carpet floors cleaned professionally, from there you can help liven them up with some new area rugs if necessary. The objective is not to disguise damage, as you don't want to mislead potential buyers, but to help them see the potential of the space without focusing on the fixable, negative aspects.
Re-Caulk Bathroom Tiles: It could also be helpful to give bathroom tiles and kitchen back splashes an update with a quick re-caulk job. It can help freshen up the space and make the work look fresh and new again.
What's perhaps most important when getting your home ready to sell is to let go of your sentimental feeling towards your home and trust your agent's advice. You may have loved the jungle themed wall paper accent wall in your living room, but know when your agent suggests replacing it with a coat of beige paint they aren't insulting your style, they simply know how to attract the most possible buyers, which in turn gets you the most possible value for your home.